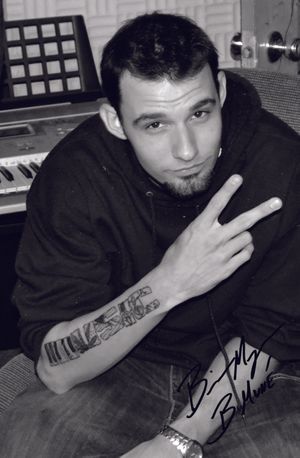 BRIAN ANDREW MEYERS
JUNE 5th, 1985 - INFINITY
 
Brian Meyers and his music have been the source of much attention from fans and artists alike. Many would like to know more about him, what makes him tick, and the inspiration behind his music; this is the official place to find this information and more.

Brian grew up as an only child in an exceptionally musical environment. His mother (an avid acoustic guitar player when younger), supported his interest in music and delighted in his early attempts to play the guitar. His sense of timing and rhythm was apparent at the age of 9 when Brian was introduced to a drum set – it was love at first sight. With his uncles Jeff (an award winning tattoo artist and musician) and Al (an 80's rock enthusiast and guitar virtuoso), Brian was surrounded by the supportive music influences that would nurture his musical abilities, as well as lead him to a deeper  appreciation for a diverse range of musical styles.

Brian attended John W. North High School in Riverside, CA. and was a leading bass player in a "garage style" band that covered classic rock songs. It was about that time that he became interested in writing hip-hop and instead of just listening as a fan and grew determined to learn more about the genre and its production. His move to Missoula marked the start of his hip-hop related projects and his official entry onto the hip-hop scene.

In Missoula, Brian and his friends "Skitzo", "Pulse" and "Traviste," formed a cyphering (or freestyling) group that became well-known for their intelligent lyrics and entertaining performances. With the encouragement of countless fans, the group decided that it was time to take their music careers more seriously and to make their music more available to the public. Brian quickly acquired the skills needed to use various equipment and software, and the magical creative process began.

Their plans were cut short when "Skitzo" was sentenced to Montana State Prison on a murder charge that should have been a self-defense case. Brian made a promise to "Skitzo" that by the time he got out of prison, he would be coming back to a more established music group with more recognition in the industry – and thus, a legit recording career was born, with Brian as everyone's main Recording Engineer and Producer. The group included Brian, "Skitzo", "Pulse", "Traviste", as well as several other artists: "The Shaman", "Dice", "Rammsies", "Overtime", "Young Jay" (now known as "Illest Uminati"), and several more. It wasn't long before these artists dominated the hip-hop scene in Missoula and the wider North West region. 

As often happens with leading groups with strong-willed individuals and powerful personalities, the members of Felony Records eventually decided to go their separate ways, work on their own musical projects and grow as individuals; they still remain friends today.  The group as a whole built a backbone for the North Western music scene, inspiring new artists in the region while honing in on their own skills and talents.

As a solo vocal artist and poet, Brian developed his own style by taking inspirations from a variety of different musical disciplines and genres. His top musical inspirations growing up were: Pink Floyd, Led Zeppelin, The Beatles, System of a Down, Eminem, The Pharcyde, 2Pac, the Wu-Tang Clan and Beethoven – today, he does not restrict himself to only listening to particular genres; he enjoys broadening his musical horizons and in doing so he keeps his tracks dynamic and musically rich.
Brian's music fits into the hip-hop category, and his delivery is often said to have a "chopper" feel to it, which is due to his focus on timing and syllable punches. His content has often lead him to being referred to as a "responsible leader." He conveys an array of positive and important messages to his audience through his lyrics, trying to advocate a responsible, socially aware, yet easy going philosophy – he would like his listeners to take advantage of everything life has to offer them.

His performances have drawn hip-hop lovers from far and wide. He is a dynamic performer, and has entertained at numerous live shows and festivals, including the Seattle Hempfest, Bay Area Hempfest, apprenticing at Rock the Bells, and more along side Legendary Artists such as Rappin 4-Tay & The IIntercepterz, E-40, Tech N9ne & all of Strange Music Inc, Hopsin & all of Funk Volume, Wu Tang Clan, Bone Thugs-N-Harmony, Common and many many more... Brian has also had the pleasure of  sharing the stage with artists such as Snow Tha Product, Cool Nutz, DJ Fatboy, Whitney Peyton, JL of BHood, Koshir and so many more!

Brian is a self-taught Music Producer, Vocal Engineer, Graphic Designer, Video Editor and Event Planner – this is a testament to his determination and dedication to his own (and others') musical development and growth. He is able to rebuild computers, construct studio equipment and work with a wide range of different software (including Sony ACID, Pro Tools, FL Studio, the entire Adobe Suite, etc.). He has received expert tips and advice from some of the Northwest Region's top sound engineers, such as "Cordell Drake", "Frodie" of Wapikiya Records LLC, "Mindless" and others. He, in turn, is enthusiastic about keeping the circle of music going by training promising young musicians.

Having witnessed his father's struggle with drugs after being diagnosed with cancer (to which he succumbed in 2012), Brian decided to join the political battle for the legalization of marijuana. He believes legal marijuana can have a variety of positive uses, whether medical, economical, or recreational. Brian's own creative process has often been amplified by marijuana, and he advocates the benefits of using it responsibly.

When he's not making music, Brian enjoys the company of his wife & children and spends a lot of his time engaging with them in fun, outdoor activities. In the spring and fall, he hikes up Mount Sentinel #MountainMonday and throughout the year attends various festivals, charity walks, and protests for issues he feels passionate about. He is particularly passionate about the Cash Hyde Foundation (an organization raising awareness for pediatric cancer and medical cannabis) that holds a special place in his heart.  Brian also maintains a Blog called "RANDOM THOUGHTS OF AN OBSERVANT MIND" which is updated often reflecting his views on lots of different topics, Click here to read now.

Brian has worked in the casino industry for over 11 years, in various locations across Montana; it is his dream to eventually start up his own casino some day. Until then, he is focused on inspiring new artists, helping to improve the hip-hop scene in the North West, fine-tuning his craft, taking care of his wife, raising his children, and continuing to make fun, intellectually stimulating and inspirational music!